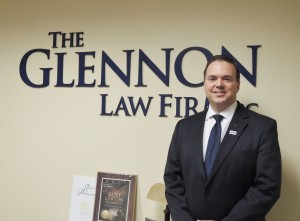 At age 17, Peter J. Glennon had to have his dad's signature to enlist in the U.S. Air Force. That was 1991 during Operation Desert Storm.
Known as a "mustang" in military parlance, Glennon started as a "slick sleeve" and rose through the ranks, earning an officer's commission.  He was selected to pilot the C-5 aircraft, but ultimately decided to attend law school.
He retired from military service in May 2015 (with 24 years of service), after serving as a JAG and Squadron Commander in the 107th Airlift Wing, Niagara Falls.
Glennon grew up in a small town in Duchess County where he saw the importance of honoring the many World War II and Korean War veterans active in his community.  The annual Memorial Day parade was a family ritual and his whole family was proud to applaud the veterans and honor the fallen.
With that brief profile, it is no surprise to learn that Glennon was one of the co-founders of Honor Flight Rochester, which is about to fly its 46th mission on April 30.
Honor Flight Rochester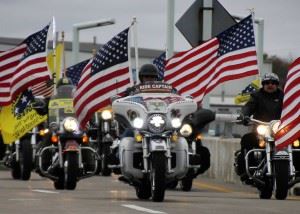 In 2006, Glennon was a new associate at Nixon Peabody and was intrigued by the story of an Ohio veteran who was taking WWII vets to Washington, D.C. to see the new World War II memorial completed in 2004. There was a similar veteran story in North Carolina.
Inspired by these stories, Glennon and six others founded Honor Flight Rochester, a 501(c) 3 non-profit.  The first mission was in 2008 with eight WWII veterans.
Since then, most missions average 55 veterans per flight with six missions per year.  Since 2008, 2121 veterans from the greater Rochester area have taken Honor Flight Rochester to tour the WWII Memorial and the Korean War Memorial in Washington, D.C. via an overnight trip funded by donations.
Six trips are scheduled for 2016, and at this point there are more Korean War veterans traveling than WWII veterans as "the greatest generation" is aging out rapidly.  That statistic shifted sometime in 2014.
"And, for the first time, we do not have a back log of veteran applications, so there are seats available for our September and October flights this year," Glennon explained, noting that the application process can be completed online, or forms printed out from https://honorflightrochester.org.
He also said that despite a recent announcement that Honor Flight Buffalo is closing, the organizations are separate and Honor Flight Rochester remains strong due to great community support.
Overnight trip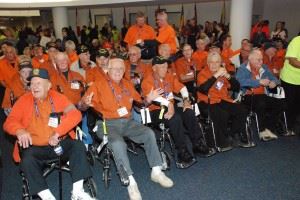 One thing that distinguishes Rochester's Honor Flight from other groups is the fact that the program includes an overnight stay.
All expenses for the veterans — flight, ground transportation, meals, hotel — are fully paid via donations.  The veteran's guardians are asked to donate $300 for his/her participation in the two-day trip.
A Southwest Airlines plane is chartered and lands at the Baltimore/Washington International Airport, where three motor coaches await to take the veterans to the various memorials and Arlington Cemetery.
"Our operations team has it down to a science," Glennon explains.  "Our volunteers make sure everyone has a wheel chair, to help keep the group on schedule. Getting everyone on the motor coaches and storing the wheelchairs happens efficiently."
Meals and hotel are all arranged by volunteers who are passionate about honoring their hometown heroes.  There are crowds to greet the veterans when they land in Baltimore, with motorcycle escorts into Washington D.C. with veterans from all branches of the military coming out to greet the Honor Flight travelers.
Upon their return to Rochester's airport the next day, the Honor Flight veterans are greeted by several hundred community members, including family members, other veterans, Rotary and other fraternal groups, such as Knights of Columbus.  This is the opportunity for the community to express its gratitude to our heroes before they are ushered into the international arrival room for a welcome home presentation including a featured speaker.
Getting to Rochester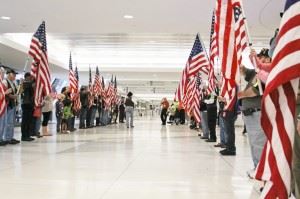 Glennon lived in Texas and Mississippi and traveled around to other countries, including Germany and Spain while in the Air Force, and spent three years in Albany, completing his law degree in 2004.
The first time he visited Rochester was for a law clerkship interview at the Appellate Division Fourth Department with Justice Elizabeth Pine. That was in 2003.
After serving in the Appellate Division's clerkship pool, he also had an opportunity to clerk directly for Justice Pine, before moving on to an associate position at Nixon Peabody in the fall of 2006.
"Nixon Peabody was very supportive as I worked on the Honor Flight idea," he said.
Meanwhile, he married Kimberly, whom he met in law school, and they have made Rochester their home as they raise their three children.
Eight-year old twins Pierce and Madeline may have something to do with Glennon's involvement with Little League coaching.  And almost 4-year-old Holden will undoubtedly be developing skills to join his dad's team.
The Glennons enjoy Friday Family Fun Nights where pizza and a movie are the tradition.
Community ties
Rochester Downtown Rotary Club is the 36th oldest rotary in the world, and the 17th largest in the United States.  And like all 33,000 rotaries around the world, Rochester Rotary believes in "service above self."
Glennon can't say enough about the great things the Rotary does, pointing out that their Sunshine Campus in Rush provides overnight experiences for disabled children.  The 157-acre camp is used by nearly 6,000 people from a multitude of not-for-profit organizations each year.
"Even the tree house can accommodate wheelchairs," Glennon explained, showing off a drawing of the elaborate structure which can be viewed at either www.sunshinecampus.org or www.rochesterrotary.org.
Glennon is currently the vice president for engagement with responsibilities including the annual Rochester Rotary Award committee, the annual Eastern Cities Rotary Dinner, Rochester Rotary's weekly program planning and the Friendship Committee.  He is also chair of the membership committee and involved with several other projects on an ad hoc basis.
From 2012-2015 Glennon served on the MCBA board of trustees.
Guilty pleasures
Skeet shooting is one of Glennon's hobbies, along with watching football and attending Buffalo Bills games with family.
"I usually buy the newest Grisham novel when it comes out, and enjoy something like that while we spend a week at a beach house in Virginia each August," Glennon confessed.  "That is true down time for the whole family."
Other times, he might have 10 different books in progress, with a tendency toward military journals and biographies.