Health Care Professionals
Faculty Appointments and Higher Education Employment for Health Care Professionals
Many health care professionals also maintain faculty appointments to help develop the next generation of doctors, dentists, nurses, physician assistants, and nurse practitioners. Did you know that some other laws and regulations apply to such higher education positions?
There are several employment policies maintained and enforced by colleges and universities. They include sexual harassment, discrimination, unprofessional conduct, and Title IX, among others. We have seen an increase in complaints against health care professional faculty members by students and residents over the past several years.
The #MeToo movement may be driving this increase, or the number of less professional members of the industry may have increased. Regardless, these policies not only apply to you as a faculty member, but they also protect you from improper discrimination and harassment.
Title IX is a popular topic these days because it was revised in 2020 and is expected to be revised again very soon. If you are accused of improper behavior or of having violated a college or university policy, The Glennon Law Firm can advise you as to how you may respond and address such complaints to ensure that your reputation is not unnecessarily harmed or that your license is protected.
If you are the person being harassed or discriminated against, we can help you stand up for yourself and your rights, while also protecting you from retaliation from your employer. We can also help you navigate the murky waters of professional relationships so as not to risk harming your reputation within the community. These are sensitive matters calling for strategic solutions and a professional touch. We can assist you.
Discrimination and Harassment of Health Care Professionals
Did you think that all licensed professionals would act professionally all the time? That would be nice, right? It is not reality. Indeed, discrimination, harassment, and particularly sexual harassment are too common in the health care industry. You are protected by New York State and federal anti-discrimination and harassment laws, including protections from a hostile work environment.
You likely knew about discrimination and harassment by colleagues and your employer. But did you know that you are also protected from sexual harassment and discrimination from patients, contractors in your office, and vendors? Yes. You are even protected from harassment from delivery people. We can help you.
And, yes, we can protect you from retaliation for complaining of unlawful discrimination or harassment. Even if you are wrong about the underlying legalities of your complaint, if you complained about it, your supervisor or employer cannot retaliate against you. Your compensation cannot be reduced, your title or responsibility cannot be changed, and your shifts cannot change, because you complained of perceived unlawful treatment.
Other Unique Challenges for Health Care Professionals
Of course, there are other unique employment issues faced by health care professionals for which we may assist you.
Health care challenges include:
Employment Contracts
Pay equity and fairness
Misclassification of employees
Medical data privacy and security protections
Exposure claims
Retaliation
Licensing and Credentialing
And more
Health care workers encounter countless hurdles to achieving their goals and often come face to face with unique issues that may be too complex to overcome without legal help.
For the first time in history, over 50%of physicians are employees. Dentists, Physician Assistants, Nurse Practitioners, Nurses, and other health care workers are also employees. All of them are protected by New York State and federal employment laws. Learn your rights, we can help.
At The Glennon Law Firm, P.C. we represent employees and employers with employment disputes. Our team works with health care professionals at all levels to help protect their rights during a dispute and provide support when they need it most.
Licenses and Credentialing
Health care professionals are required to keep their licenses current. This includes the renewal of all physician, dentist, nursing, and therapist licenses as well as special certificates for niche medical procedures.
Keeping up with certifications is a crucial part of professional development, but some health care professionals may face legal barriers in doing so. Whether they face threats of license revocation or other penalties, workers need a legal advocate to help them protect their rights and their future.
---
Rochester Health Care Professional Employment Lawyers
Protecting the Rights of Medical Professionals, Dentists, and Other Health Care Employees in New York
When Health Care employees' rights are violated, The Glennon Law Firm can provide a plan for you to keep control of your career.
Did you work hard to get where you are today so that you could deal with employment headaches? No. You worked hard to be able to care for and treat patients. Science and the art of dealing with people are a powerful combination that can be used to help so many. That is what you are or should be focused on.
However, as the health care industry is ever-expanding and becoming a dominant industry and employer in many regions, many employment contract and professional issues arise. Such added stress is not what you need when your day-to-day responsibilities are already sufficiently stressful. And poorly trained supervisors and managers seem to only add to the problems for health care professionals.
Why? Because these growing employers are running a business and, in any business, proper training or proper hiring or selection is not always perfect. But their shortcomings should not result in your career taking an unexpected turn. Keep control and follow the path to resolve the headaches.
---
Call our Rochester health care professional employment attorneys at (585) 294-0303.
---
Employment Contracts and Non-Compete Agreements
Do you feel stuck in your current practice because you signed a non-compete agreement? We can guide you around those headaches and you can keep control of your career.
Peter Glennon wrote the book on Non-Compete Agreements for health care professionals. "Am I Stuck in This Practice?" presents the issues to consider when signing an employment contract containing a non-compete agreement and other restrictive covenants. It also lays out general plans for you to consider when you want to leave your current practice and join a new employer.
Non-compete agreements and other contractual provisions can put you in a sticky situation, but you have options. Call, chat, or submit a contact form to schedule a consult with The Glennon Law Firm.
Severance Agreements for Health Care Professionals
Do you have or know that feeling when your employer surprises you with bad news, like separation or termination? We understand it and can help you keep control of your career.
So many questions arise when your employment suddenly ends unplanned. You are leaving either because you have been facing harassment or discrimination and need to leave, or your employer no longer appreciates your value. In either case, you may be unsure of what to do, what to agree to, how to explain the situation to a prospective employer, or how to answer questions when renewing your license. The Glennon Law Firm can explain your rights and provide those personal strategies and options to you. By learning your rights and devising strategies, you will be able to ground yourself and keep control of your career.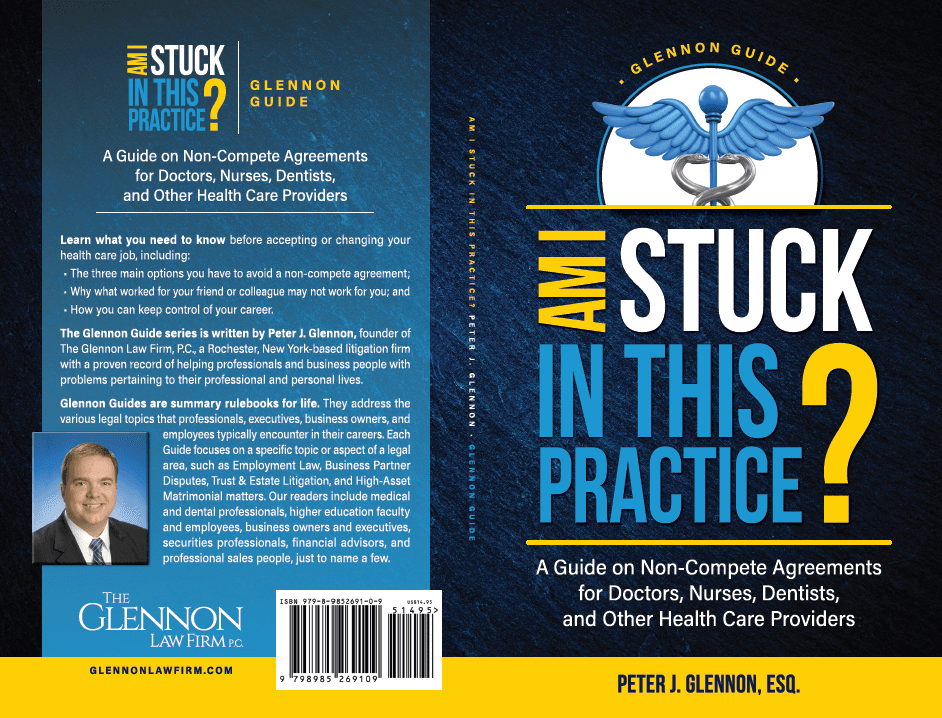 Whether you are an executive or an employee in the health care field, The Glennon Law Firm, P.C. can help. Our experienced attorneys assist clients with their employment concerns whether they need to dispute a claim or navigate a non-compete clause. We have helped countless clients at all levels of the health care field with their cases and stay current with all state and federal regulations.
---
When you need an advocate, contact The Glennon Law Firm, P.C. Our Rochester health care professional employment attorneys are here to help.
---
We Focus on Our Client's Unique Needs & Help to Devise a Unique Plan

We Are Consistently Included in the Super Lawyers® List

We Are Experienced in Litigating Financial Assets

We Are Continuously Included in Best Lawyers® & Best Law Firms®

We Provide Tailored Solutions With Discretion for Private Legal Disputes Tell Us Your Greatest Challenge
Let The Glennon Law Firm Guide You